Your integral solution for event management and ticket sales
KoobinEvent software provides all the necessary tools so that you can self-manage your events in the most efficient way. Make use of the best technology, enjoy full control over your ticketing, from the event and venue configuration, the sale of your subscriptions, tickets, events and products,  the activation of promotions and packages, until your customer access your venue and enjoys the event. Get results from your sales and attendance and analyze your audiences with our CRM and BI tools. Build loyalty and prepare personalized offers and campaigns.
Management
Manage your products completely independently, whether they are subscriptions, packages, events or add any other product or additional service to the ticket (catering, merchandising, parking, insurance …). You can create as many user profiles as you need and grant access to the admin with or without any limit. With a computer and an Internet connection you can work from anywhere and anytime, thanks to our 100% Cloud platform.
Sales
Tracking
Promotional campaigns
Ticket design
Access control
CRM and Business Intelligence

Venue Management
We prepare seating maps with the best graphic representation for desktop and mobile devices.
Seating map in a single page, with a real distribution of the seats, with 3D vision*, representation of the floors and view from each seat. Configure visibility percentages with warning messages and associate additional features to each seat according to your customers' needs.
Numbered, unnumbered or mixed seating maps. Anyway, your venue will have the necessary tools to manage it in the most complete way.
* In collaboration with Mobile Media Content.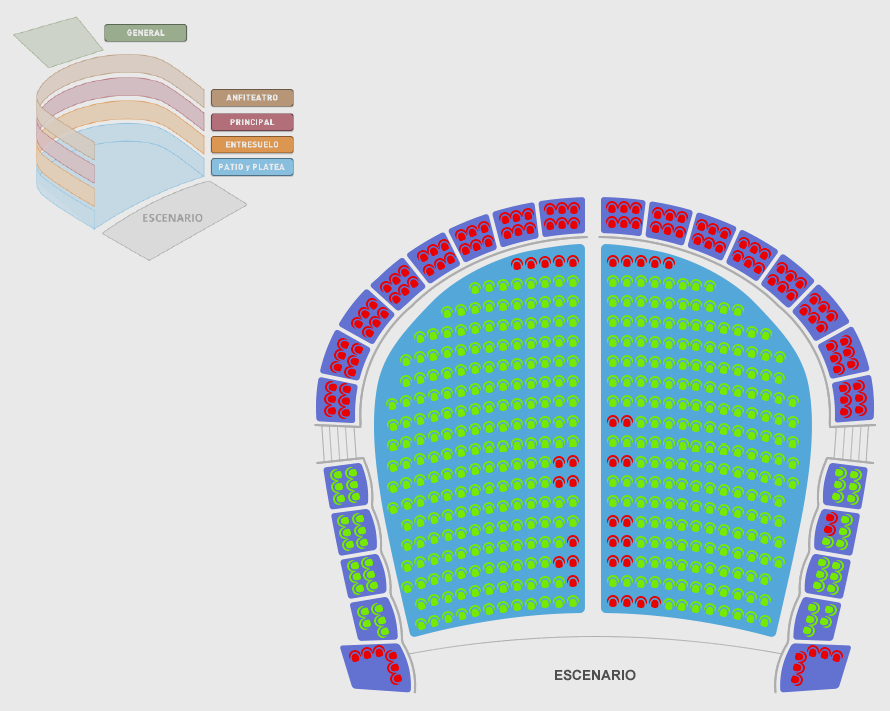 OVIEDO OPERA HOUSE
Italian theater represented graphically in a single page with floor pre-selection
VALENCIA BASKET PAVILION
Venue divided in sectors, categorized by price areas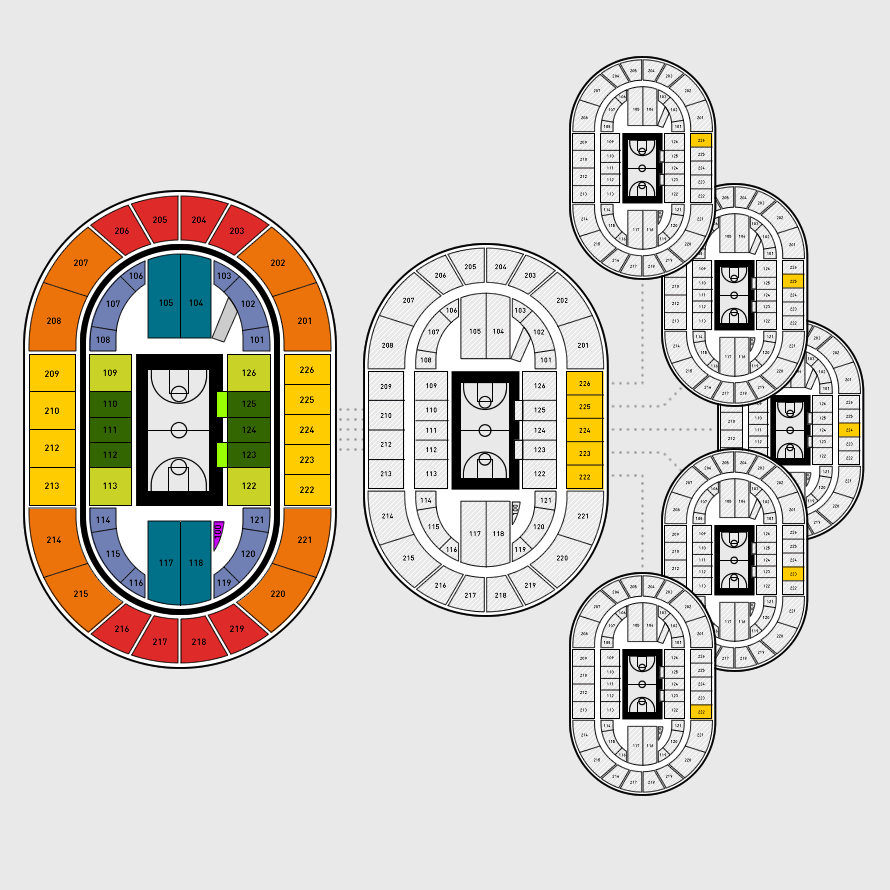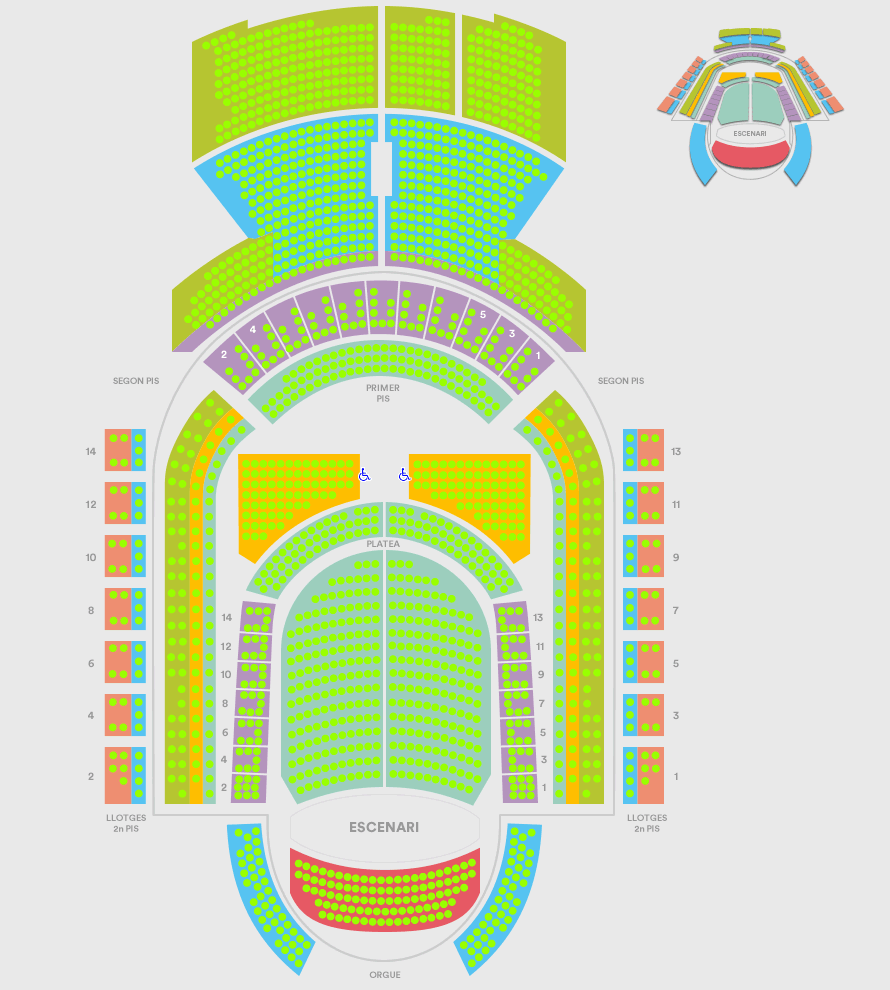 PALAU DE LA MÚSICA CATALANA
 View of all seating areas on a single page

Subscriber and subscription management
With KoobinEvent you can manage and market all kind of subscriptions: seasonal subscriptions (fixed and flexible), subscription shifts, multi-venue subscriptions or subscription packages.
Generate SEPA remittances and load them directly into your bank. Design your subscriber cards or print all tickets in ticket-book format.
Your subscribers will be able to carry out all procedures comfortably online from their Personal Zone:
Renewal: they can renew their subscription from one season to another by paying it via web, even by direct debit (fractional or single payment).
Upgrade: during the renewal process they can upgrade their subscription by paying the difference.
Change of seats: they can change one event of their subscription for another.
Ticket yielding: they will have the possibility to extract any ticket from their subscription and send it by email.
Secondary market: they can release and sell their seats and receive rewards if those seats are sold to other people.

Sale of all kinds of events and products
Market your events and products through the channels you prefer. Single or multi-session events with calendar selection, for free or with price, with a preferential sale for subscribers or for certain groups. Sell your events and your packages or subscriptions simultaneously without any complications.
Create more offer for your users: catering services, guided tours, parking, merchandising with stock management, gift cards with balances or flat rates with exchangeable uses for tickets.

Ticket Design
Customize your Print-at-home, mobile, Apple Wallet ™ and thermal tickets to your liking. Add images, texts, advertising, sponsor logos or promotional codes and use designs for general uses or for specific events or products.





Promotions: rates, discounts and packages
Maximize sales by creating and programming all kinds of promotions:
Online validation for groups
Promotional codes
Online validable free rates
Exclusive rates for your subscribers
Last-minute and early bird promotions
Programming of temporary promotions with maximum uses
A la carte event packages, fixed or mixed
Create your Loyalty Club and offer rewards for the purchases

Revenue optimization
Increase your income per ticket sold through our dynamic pricing tool associated with the occupancy level of your events. You just have to configure your parameters and define what events and price categories apply. Prices will increase or decrease, as a percentage or in fixed amounts.

Many available methods of payment
We implement your own payment means so that you receive directly all of the income, without any need to do liquidations. You can use the methods of payment you require: 

Points of sale
Increase the visibility of your products, reach new audiences and improve sales by enabling additional points of sale. Only you will decide which channels you want: from a tourist office, through hotels or travel agencies, to external distribution channels. We are already integrated with main distributors such as: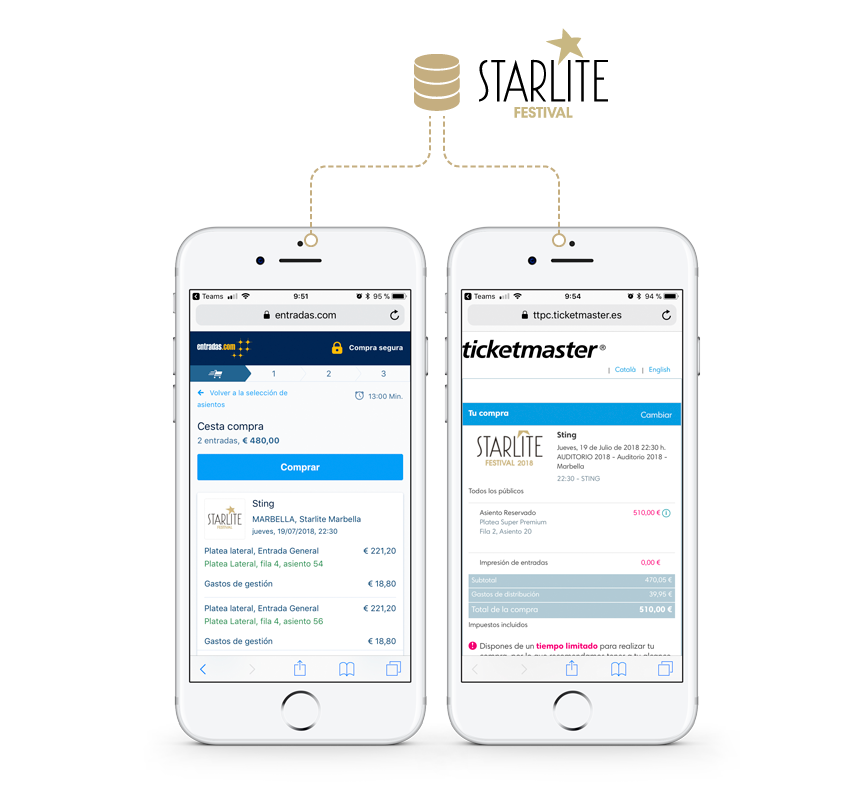 Starlite Festival Marbella
Through our API our customers can offer their events on multiple platforms, in real time and on the same seating map

CRM & Social Networks
With KoobinEvent you are the sole owner of your customer database. Use and extract all the juice of the CRM tools that we provide to consolidate it and make it a source of knowledge.
Configure customized registration forms, your audience segments according to the criteria you prefer and use our database interrogator to obtain all the information about your clients. Prepare and send personalized campaigns, either via MailChimp (with whom we are integrated) or with your preferred emailing manager.
Encourage your users to make use of the viralization tools we provide and simply harness the power of the network and… GO VIRAL!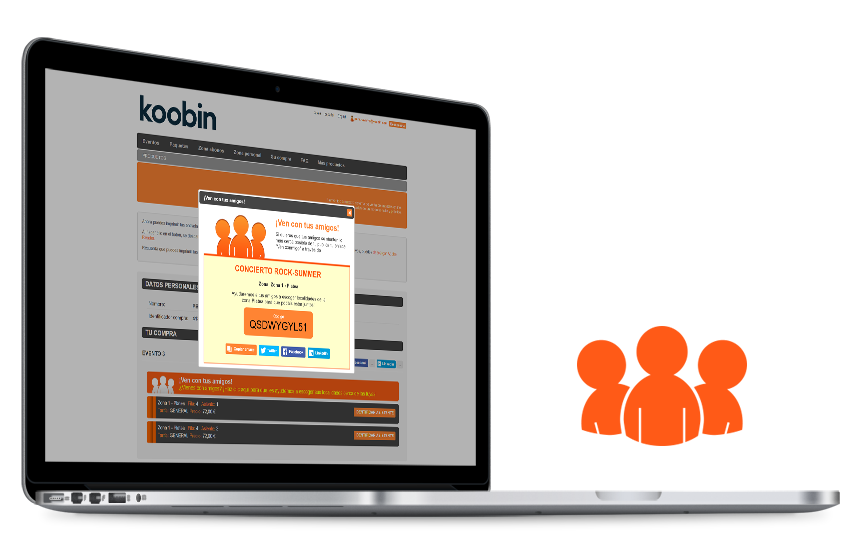 Come with me!
With the  "Come with me!" feature, your users can post links of their purchases in the social networks so that their friends can buy the seats closest to theirs
Business Intelligence
Transform with Teknedata all your data into meaningful information to facilitate decision making and the most efficient optimization of your resources.
This Business Intelligence module provides you with the most powerful sales, revenue and public analysis tools and puts at your disposal, in a graphical, simple and understandable way, the necessary data so that you evaluate what are the best strategies to implement in your business.
In partnership with Teknecultura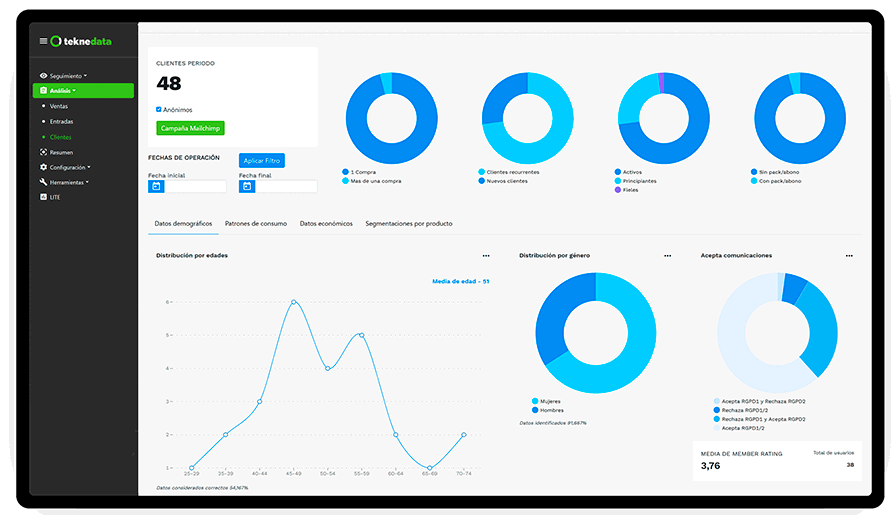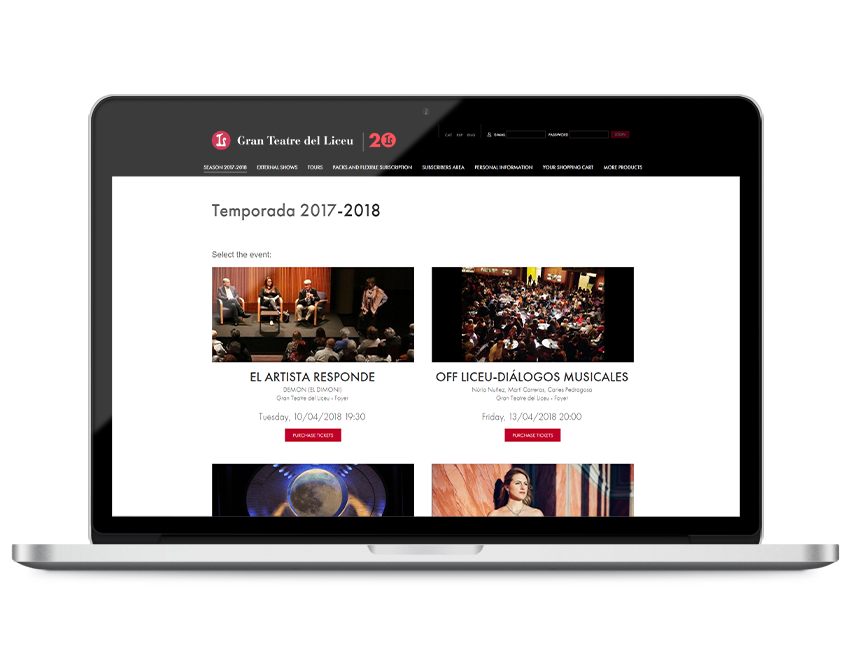 They already work with KoobinEvent and Teknedata, among others:
Teatre Nacional de Catalunya
Gran Teatre del Liceu 
Auditori de Barcelona 
Teatres Victòria i Poliorama
Get in touch and we will show you what KoobinEvent can do for your organization.